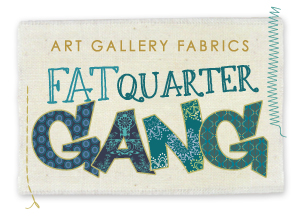 Fat Quarter Projects
We have teamed up with bloggers from around the globe to bring you Art Gallery's Fat Quarter Gang! Every week, your favorite bloggers will bring you exclusive fat quarter projects tutorials, ranging from clothing to sewing accessories, available at our Creative Blog! Here you'll find all their awesome sewing tutorials, but don't forget to check back because there's more to come! Discover also our huge gallery of free quilt patterns and free sewing patterns for even more inspiration.
Why Fat Quarter Gang?
The name of our gang came from pre- cut pieces of cotton fabric called Fat Quarters.
It's so easy to get tempted by beautiful fat quarter bundles of fabric, and cheaper to buy a fat quarter rather than full yards.
So what is exactly a fat quarter?
Fat quarters are taken from one yard of fabric, cut in half lengthwise, and then in half width-wise. The dimensions are approximately 18″ x 22″ (46cm x 56cm).
A fat quarter offers more versatility, whether it's for patchwork or appliqué. Quilt shops know that fat quarters are popular, and usually offer a wide assortment of them, stacked up and ready to go.
There are plenty of things to make with fat quarters besides quilts: bags, purses, dresses, scarfs, pillows, you name it! They are perfect for all sorts of sewing. Just get inspired with our wide collection of fat quarter projects.
If you wish to buy any of AGF fabrics online there is no easier way than visiting our online fabric stores directory. Do you prefer buying in your local fabric store. Check our fabric store locator.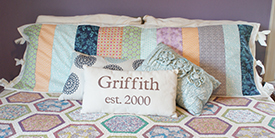 Tutorial by Rachel Griffith
"It's SUPER simplistic and perfect for sprucing
up any bed." – Rachel of
ps i quilt
.